About our industry > Biscuits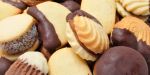 History
Since its creation biscuit has played two roles: the practical and nutritious food, easy to preserve and carry and the confectionery food which evolved at the same pace as Europe.
Read More
How biscuits are made
The list of biscuit products is long and varied. And it continues evolving since new recipes and techniques are tested every day.
Read More